CIS subsidiaries all over the world offer diverse job opportunities for local candidates as well as for any new expatriation applicant, be it for support functions or operational functions.
Subsidiaries support functions
Operations
Upstream of our operational activities, the Area Managers and Country Managers are responsible for coordinating the operational and sales side of the Group's business. In the field, the operational teams ensure that the various services delivered to our clients match the contractual requirements.
Profit center management
Area Manager
Objective
Meet targets in terms of the area's economic performance and ensure the continuity of contracts
Reports to
Group Chief Executive Officer
In charge of
Country Managers, Project Managers
Main tasks
Area development
Involvement in achieving sales and economic performance objectives
Implementation of internal control rules for the area
Financial and operational reporting
Dynamic HR management
Employee experience
"I oversee the operational and sales activities of the two countries in my area. My role requires me to be very involved in relations with current and future clients, while my operational background and managerial skills enable me to manage the profitability of the area, and the overall consistency of its policy with the strategy of the CIS Group."
Grégory J.A., Area manager, Latin America CIS
Country Manager
Objective
Represent the company locally.
Main tasks
Meet annual quantitative and qualitative objectives
Optimise resources in order to ensure the country's development
Verify compliance of operations
Analyse performance results
Implement the Group's internal control rules locally
Recruit, train and coordinate expatriates, manage local teams
Ensure the necessary resources to comply with QHSE rules
Identify, contact and negotiate with potential clients
Sustain relations with existing clients
Employee experience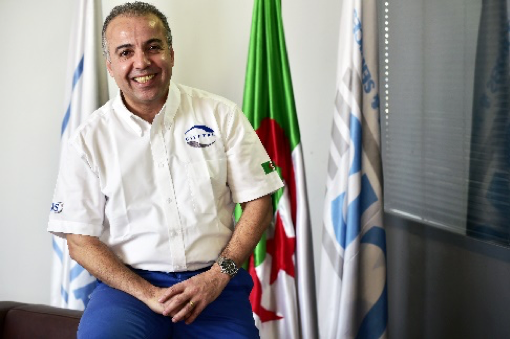 "I am the Manager of the largest subsidiary of the CIS Group. We manage over 70 contracts in Algeria and employ more than 5,000 people. In addition to my daily involvement in the development of the business and keeping tabs on client contracts, managing such a large company independently is a constant challenge, but also an exciting adventure! It's a mix between strategic and operational management, like the CIS Group itself."
Arezki M., Country Manager, CIEPTAL Algeria
Operational management
Operations Manager
Objective
Ensure the smooth functioning of operations
Main tasks
Establish management, control and administration procedures
Respect budget constraints
Regularly liaise with the client regarding current contracts and potential developments
Ensure the proper execution of contracts
Provide a monthly summary of management and operational performance
Employee experience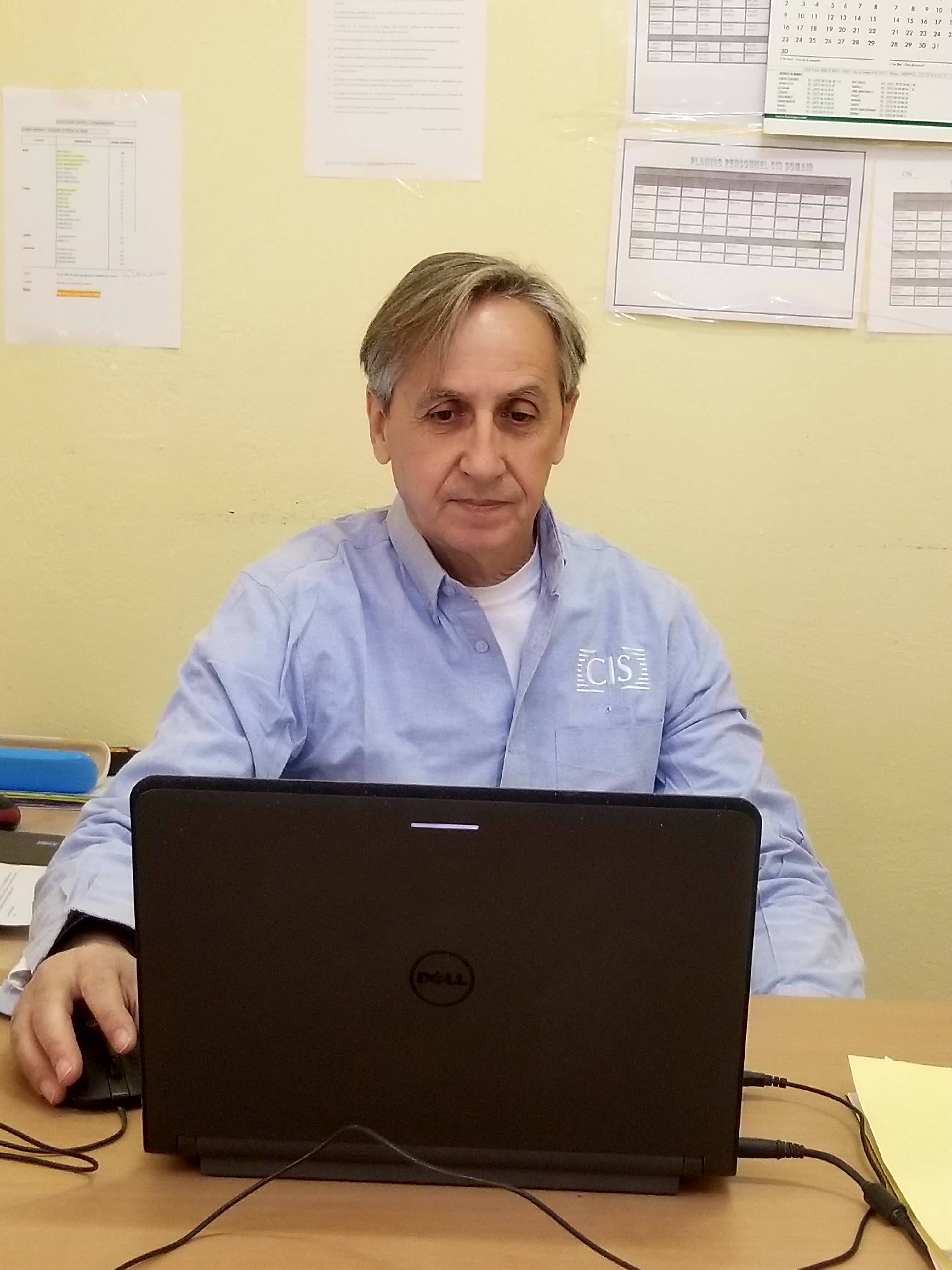 "I am the Country Manager's representative in the field. He passes on information and instructions to me concerning our various contracts. Thanks to my Camp Bosses on each site, I report information upstream and downstream and coordinate all of the parties involved in the client service chain, in order to optimise our overall operational performance."
Eddy L., Directeur des Opérations, CIS Chad
Site/Project Manager
Camp Boss
Objective
Manage and coordinate a team of expatriates and local catering employees
Reports to
Operations Manager, Site Manager, Country Manager (depending on the local situation)
In charge of
Catering Manager, Head Chef, Maintenance Manager, Accommodation Manager
Main tasks
Organise the work teams
Supervise and take part in training local personnel
Perform regular inspections
Verify the proper functioning of equipment
Ensure compliance with the contract and good relations between all parties
Ensure application of the quality standards and safety rules
Be the client's main contact person
Employee experience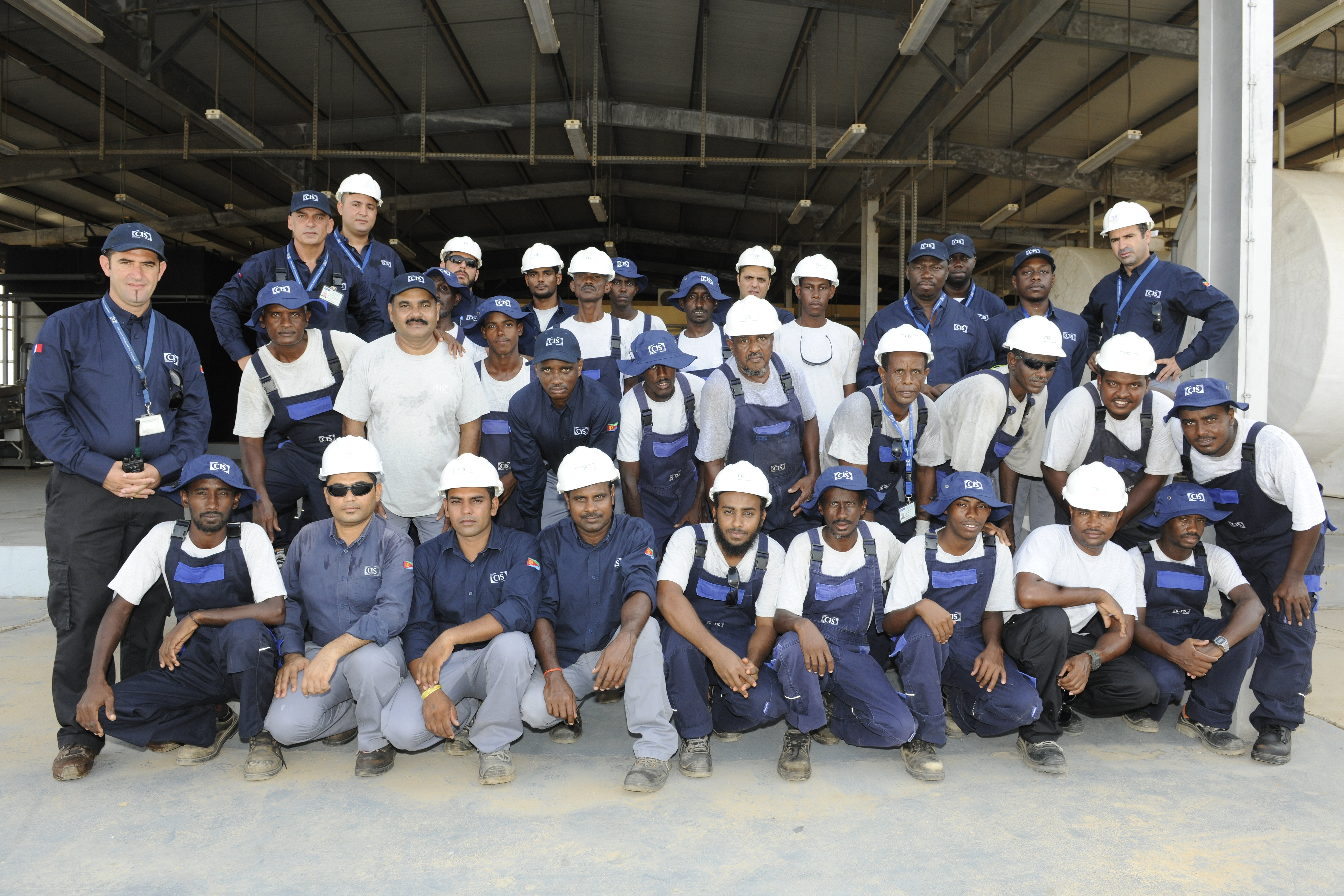 "I am in daily contact with our client's representative on-site. As such, I coordinate the managers of the various services on the camp. I ensure that the contract is properly executed and that a high quality of service is maintained at all levels of our operations. It's intense, but exciting work! It enables me to apply my sense of service, discipline and versatility."
Swapan M., Camp Boss, CIS Erythrée
Catering / Accomodation
Local and international specialists are selected by the CIS Group to guarantee a high level of catering management on our operational sites, which has long been the CIS Group's core business. The proper maintenance of accommodation facilities, in addition to the provision of recreational activities, require a high level of expertise. Only then can we ensure our residents enjoy a high standard of living on-site.
Catering management
Catering Manager
Restaurant Manager
Waiter
Kitchen
Head Chef
Objective
Manage kitchen staff and ensure that hygiene rules and budget restrictions are respected
Reports to
Camp Boss, Catering Manager (depending on the local situation)
In charge of
Kitchen staff, Main Store Manager (depending on the local situation)
Main tasks
Create and prepare appealing menus and organise occasional events
Create technical sheets
Establish monthly requirements in terms of goods in tandem with the store manager
Ensure creation of HACCP and QHSE records
Help draw up the staff rosters
Assess employees and training requirements and ensure that the kitchen staff receive appropriate training
Employee experience
"I used to be in charge at a traditional catering company, but then I realised that I wanted something more from my job. CIS granted me the opportunity to use my skills in a completely different environment. At times it is difficult, but it is so fulfilling thanks to the cultural diversity and challenges we face. There's no way I'd go back to my old job!"
Kamal A., Head Chef, CIS Arabia, Saudi Arabia
Cook
Baker/Pastry Cook
Butcher
Dishwasher
Central store
Central Store Manager
Objective
Ensure the supply of goods on-site by optimising flow and cost management
Reports to
Camp Boss, Catering Manager, Head Chef (depending on the local situation)
Main tasks
Control and manage supplier orders and deliveries
Check products on delivery according to quality standards
Oversee store/kitchen/client flows, place orders
Monitor costs
Draw up inventories, perform cost analysis and stocktakes
Produce a month-end activity report
Manage and plan the work of general employees
Assess and train employees in the area of quality/safety standards
Employee experience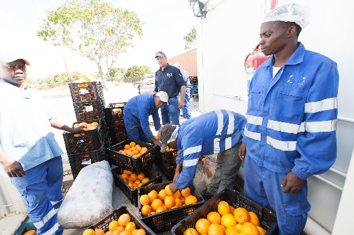 "Without equipment and raw materials, we would not be able to function. Whether it involves supplies for our catering, technical maintenance or cleaning activities, my team ensures daily that we have sufficient stock to meet the requirements of our service contract and to satisfy our clients. It is not just a question of supplying goods, but also of controlling the freshness of our stock and managing the responsiveness of our suppliers on a daily basis. The main store is a company within the company!"
Azzedine G., Main Store Manager, CLN Mozambique
Storekeeper
Site Procurement Officer
Food safety
Nutritionist
Objective
Maximise the dietary quality of menus and enhance them as part of an optimised nutritional approach
Main tasks
Create varied and balanced menus, that meet teams' vital needs
Oversee culinary preparation
Ensure compliance with food standards and regulations
Prevent mistakes and food poisoning risks
Carry out information campaigns on all aspects of nutrition
Assess and report results over a specific period of time
Employee experience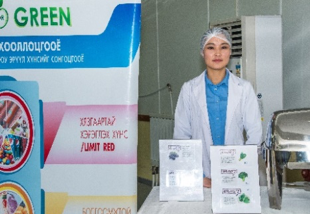 "Hygiene and nutritional health are priorities for us, especially on isolated sites where [ON1] a balanced and high-quality catering offer is both a rare pleasure for residents and a way of guaranteeing their efficiency at work! I am happy to be able to contribute to this balance, while enhancing the local produce and food culture, and to work alongside a group of skilled and exacting professionals."
Ganzorig M., Nutritionist, SSM Mongolia
Accomodation
Accommodation Manager
Objective
Oversee the accommodation team, plan and manage accommodation on-site
In charge of
Housekeeping Manager, Cleaning Manager, Receptionist
Main tasks
Establish the management tools required for accommodation management
Follow the accommodation plan in cooperation with the client
Take part in daily meetings to discuss arrivals/departures and daily priorities
Check and record employee attendance
Train staff on biocleaning methods and personal hygiene
Organise and perform controls of accommodation services
Employee experience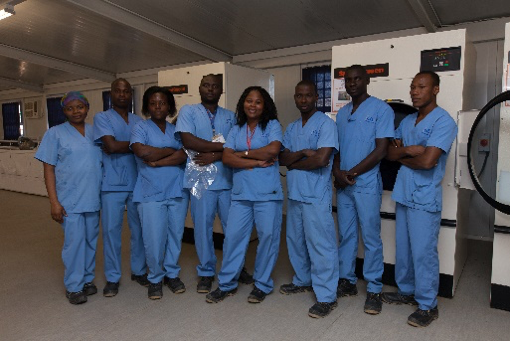 "Given the extreme conditions in which our residents often work, the comfort and cleanliness of their accommodation facilities and of their work and leisure clothing must be impeccable. We are responsible for the overall well-being of the residents on-site at all times and carry out our duties with professionalism, discretion and pride."
Bintou N., Accommodation Manager, CIS Tchad
Receptionist
Housekeeping Manager
Housekeeper
Cleaning Manager
Cleaner
Recreation/Event Management
Recreation/Event Manager
Objective
Oversee and manage sports and cultural events
Main tasks
Organise sports and/or cultural events
Manage equipment (check and prepare equipment)
Help draw up rosters and organise events
Oversee and organise sports training sessions
Respect and ensure compliance with current QHSE standards (within the scope of his/her activities)
Employee experience
"Distractions are rare on remote sites. That is why my team and I strive to offer our residents sports activities, entertainment and various amenities that will help them to clear their minds and improve their on-site experience. Not only does this contribute to their personal well-being, it also improves the general feeling and social interaction on the camp. It creates a better atmosphere and improves professional efficiency!"
Narantsetseg C., Recreation Manager, SSM Mongolia
Sports coach
Mini-market Manager
Hairdresser
Technical functions
Because quality of life also depends on the safety and cleanliness of facilities, CIS employs specialised technicians in these areas to ensure client satisfaction. The same applies to the maintenance of equipment and industrial and IT systems, which are necessary for the proper running of the sites on a daily basis.
Maintenance
Maintenance Manager
Objective
Ensure the maintenance and repair of equipment on-site and manage the local maintenance team
In charge of
Plumber, Electrician, HVAC Technician, technical staff
Main tasks
Implement and supervise all tasks relating to the maintenance and repair of equipment for the camp and the outdoor areas
Create, organise and follow the preventive maintenance programme
Manage all equipment and spare parts
Organise team work, staff rotation and attendance
Train local staff
Communicate QHSE procedures to the team and ensure they are applied in the field
Draw up reports (incidents, accidents, damages and losses, etc.)
Employee experience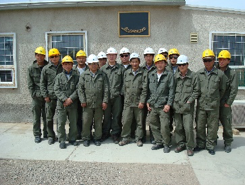 "I manage a number of versatile teams that carry out preventive and curative maintenance on all of the equipment on-site. Thanks to CIS, I have been able to develop my managerial skills while remaining involved in the operational side of things thanks to my experience as a technician. Above all, I have learned to be more resourceful, which is vital when you work in an isolated environment where quick and innovative solutions must constantly be found."
Nurzhan N., Maintenance Manager, CAC Kazakhstan
Plumber
Electrician
HVAC Technician
Environment
Water Management Technician
Objective
Operate and maintain the treatment system and drinking water supply
Reports to
Camp Boss, QHSE Manager, Maintenance Manager (depending on the local situation)
In charge of
Water treatment technical staff
Main tasks
Ensure the proper functioning of the drinking water treatment system in compliance with the applicable standards
Ensure the proper functioning of the domestic waste water treatment system in compliance with the applicable discharge standards
Conduct sampling on the drinking water and waste water systems to ensure their conformity
Maintain the water system surveillance equipment
Employee experience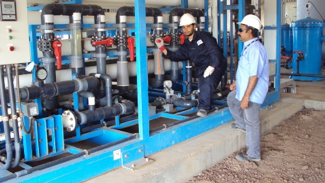 "I am proud to be able to use my expertise in our environment where, like everywhere else, meeting drinking water needs is a constant challenge. Day after day, thanks to a process involving strict controls of the installations and of the product, I guarantee the constant quality of a service is that is as precious as it is vital."
Kumar S., Water Treatment and Management Technician, CNA Mauritanie
Waste Management Technician
Pest Control Technician
Landscaping Manager
Gardener
Transportation
Fleet Manager
Driver
Mechanician
Information systems
System and Network Manager
Objective
Organise and ensure the proper functioning of information systems on-site
In charge of
IT Support Technician, Access Control Technician
Main tasks
Ensure the proper functioning of information systems on-site
Organise the implementation of the Group's IS tools in cooperation with the IS department at head office
Ensure project reporting to the head office and our client(s) in cooperation with the Operations Manager
Ensure the safety of strategic electronic data relating to operations
Ensure the proper functioning, monitoring and use of the equipment and software made available by head office for our operations, in compliance with CIS' rules and the specific rules applicable to the project
Employee experience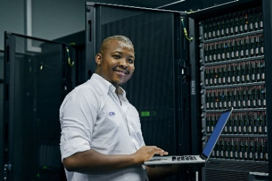 « Not only has CIS given me the opportunity to put my skills and versatility to the test in a motivating and exciting environment, but I am gaining experience every day in areas of expertise, such as telephony and access control, that I would probably never have come into contact with in a regular work environment. The constraints of our environment have also helped me to increase my ability to adapt and innovate. »
Wilson K., Site IT Manager, CIS Brasil
System and Network Technician
Access Control Technician
Subsidiaries support functions
The back-office teams within our subsidiaries provide head office with a point of contact in each country and guarantee the proper implementation and coordination of the Group's processes in compliance with local regulations and resources.
Administration & Finance
Administrative and Finance Manager
Objective
Assist the Country Manager with the financial and administrative management of the sites
In charge of
Head of Accounting, Accountant, Budget Controller, Payroll Manager (depending on the local situation)
Main tasks
Accounting and financial reporting
Monitor and analyse financial flows
Verify the compliance of operations with the initial budget
Analyse performance results
Ensure that all administrative formalities are carried out in accordance with local legal obligations
Provide earnings forecasts and keep track of monthly differences
Assist the Country Manager with the implementation of the Group's internal control rules within the subsidiaries
Employee experience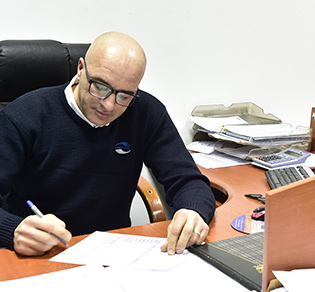 "Accounting and financial standards may be international and standardised, but each new country and working environment has its own particularities and presents new challenges, particularly with regard to team management. I ensure the proper application within the subsidiaries of the standards that enable the CIS Group to remain strong and consistent, despite the diversity of its entities and contracts."
Yacine P., Administrative and Finance Manager, CIEPTAL Algeria
Controller
Accountant
Human ressources
Human Resources Manager
Payroll Manager
Purchasing/Logistics
Purchasing/Logistics Manager
Country Purchaser
Country Procurement Officer
Business Development
Business Developer
Objective
Sign new, profitable contracts as part of the Group's development strategy
Reports to
Country Manager, Area Manager, Sales Director
In charge of
Back-Office Sales Manager
Main tasks
Create and implement the business development plan
Monitor developments on the markets/among the competition
Regularly provide the information necessary for managing the sales activity
Identify business prospects
Coordinate replies to RFPs and manage sales negotiations if required
Employee experience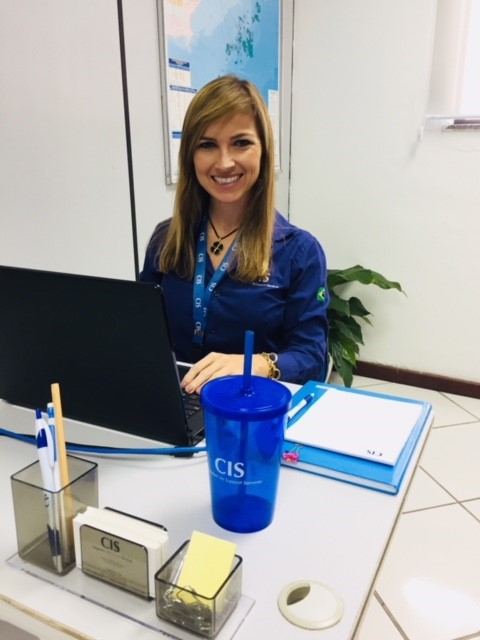 "I like my job at CIS because it gives me a lot of freedom. In our industry, it's important to be present in the field. I travel a lot to discover new projects and to meet current and future clients, but I also spend a lot of time working on technical offers so that we can win new contracts. In order to do, I have to take an overall approach and I often have to manage projects teams to ensure we meet our client's contractual requirements. At CIS, each contract is new challenge!"
Thais T., Business Development Representative, CIS Brasil
Contract Manager
Sales Support Officer
QHSE
QHSE Manager
Nutritionist
Head office functions
Based in Marseilles, France, CIS' head office is home to the Group's key corporate positions.
Finance
Director of Accounting
Accountant
Financial Controller
Consolidation Manager
Cash Manager
Controlling
Director of Controlling
Controller
Objective
Improve the economic and operational performance of the Group's entities
Reports to
Director of Budget Control
Main tasks
Ensure that monthly reporting in the SAP system is carried out correctly
Prepare monthly analysis notes on subsidiaries' results
Advise and assist the operational teams with the analysis of their results
Help draw up action plans for each subsidiary
Help implement management tools for financial management and decision making
Train the local teams in reporting tools to enhance financial visibility and profitability management
Help coordinate the preparation of the annual budgets and forecasts
Analyse and help the Group's subsidiaries with their annual budgets and forecasts
Employee experience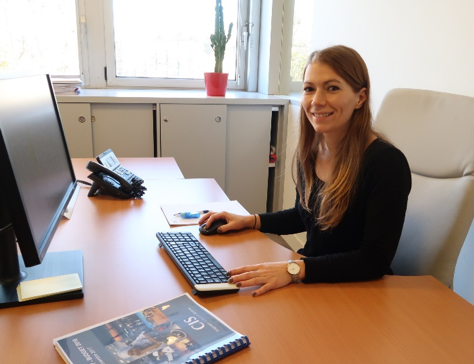 "As an international budget controller based at CIS' head office, I have the opportunity to work on projects that have a direct impact on the Group's strategy and to work with all of the company's departments. I also have the opportunity to work with people from all walks of life, both culturally and professionally, when I travel to our sites abroad. During those visits, I help solve operational problems related to the immediate challenges of the subsidiaries."
Amélie S., Budget Controller, CIS Marseille (Head Office)
Director of Internal Control
Internal Controller
Human Resources
Human Resources Manager
HR Development Manager
Recruitment Manager
Payroll Manager
Expatriate Logistics Manager
Business Development
Key Accounts Manager
Business Developer
Bid Centre Manager
Bid Coordinator
Technical Bid Writer
Market Analyst
Purchasing/Logistics
Purchasing/Logistics Manager
International Purchaser
Objective
Buy strategic goods under the best conditions for CIS' subsidiaries
Reports to
Procurement/Logistics Manager
Main tasks
Organise procurement (product sourcing, negotiation with suppliers, formalisation of offers with internal clients, place orders with suppliers)
Select carriers and type of transportation suitable for consolidation, dispatch and transit
Control invoices from suppliers 
Ensure the proper reception of goods on-site and verify their compliance
Carry out a global benchmark of procurement prices
Oversee the negotiation, drafting, implementation and performance of supplier contracts
Establish a product repository (specifications, catalogue, accessibility)
Employee experience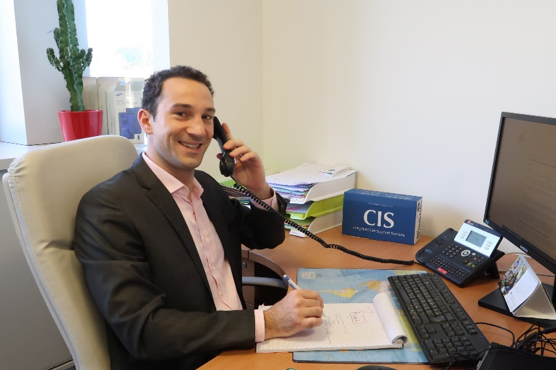 "Managing the procurement and delivery of supplies to our sites, especially foodstuffs, is a permanent challenge due to the logistical difficulties involved as a result of their complex situation and international environment. Each new project is a challenge and has a direct impact on the profitability of the contract and our client's satisfaction. These projects are not without constraints, but it is very rewarding professionally to work in such an environment."
Thibault D., International Buyer, CIS Marseille (Head Office)
International Procurement Officer
Information Systems
System and Network Manager
Objective
Organise and ensure the proper functioning of information systems on-site
In charge of
IT Support Technician, Access Control Technician
Main tasks
Ensure the proper functioning of information systems on-site
Organise the implementation of the Group's IS tools in cooperation with the IS department at head office
Ensure project reporting to the head office and our client(s) in cooperation with the Operations Manager
Ensure the safety of strategic electronic data relating to operations
Ensure the proper functioning, monitoring and use of the equipment and software made available by head office for our operations, in compliance with CIS' rules and the specific rules applicable to the project
Employee experience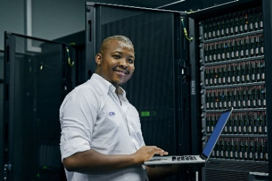 « Not only has CIS given me the opportunity to put my skills and versatility to the test in a motivating and exciting environment, but I am gaining experience every day in areas of expertise, such as telephony and access control, that I would probably never have come into contact with in a regular work environment. The constraints of our environment have also helped me to increase my ability to adapt and innovate. »
Wilson K., Site IT Manager, CIS Brasil
IT Operations Manager
IT Support Technician
Applications Developer
QHSE
QHSE Manager
Group Nutritionist
Quality Document Controller
Legal
Head of Legal Department
International Legal Advisor
Communication
Director of Communications
Communications Manager
Back Office
General Assistant
Receptionist